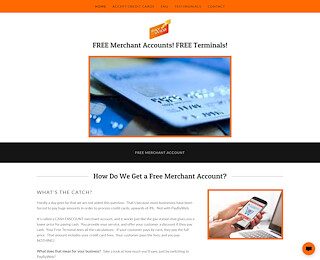 If you wish to do business online, but you'd like a Paypal alternative, you really ought to find out about PayByWeb. We can do everything Paypal does, and in many cases, we can do it for a lot less. When your website visitors see the PayByWeb symbol, they will know that ordering from you is safe and secure.

Paypal is a great service, but not everybody wants to use it. Frankly, they are a huge corporate part of Ebay, which a lot of people prefer not to patronize. When you choose PayByWeb as your Paypal alternative, you can feel good in knowing that you are doing business with a decent company that doesn't simply hoard its profits. We don't want to brag too much about it, but PayByWeb does a lot of nice things for the Pinellas Park neighborhood in which it is located. We began our philanthropy by donating a few turkeys to the local shelter. We don't know of any other Paypal alternative that does that. Over the years, we have been able to donate more turkeys and other foodstuffs to local homeless shelters and other entities that assist the less fortunate during this sacred holiday season.

If you need to set up your Paypal alternative right away, we may be able to activate your PayByWeb merchant account in as little as 24 hours. Need a short-term way to provide a Paypal alternative for a one-time event? We can help you with that, too. For only $35 a month plus reasonable processing and transaction fees, you will be able to accept MasterCard, Visa, Discover and Amex. We charge just 4% plus fifty cents per transaction. Some credit card payment processing providers charge easily twice that. We do require a $50 refundable security deposit on your merchant credit card payment processing terminal. To know more, give us a call at 727.289.7009.
Pay By Web Inc.
(727) 289-7009
4505 PARK BLVD STE 6 PINELLAS PARK FL
CALL NOW
(727) 289-7009
We Specialize In: alternative,moneybookers,ebay paypal,accept online,merchant services,pay with paypal,online merchant,process credit,pay pal,google checkout,best merchant,payment gateway